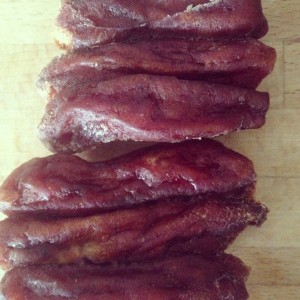 I'm getting ready for a long-haul flight, and want to share some delicious, organic snack ideas with you.
I'm a fan of high-quality dried fruits, seeds and nuts. Forget sugar-soaked varieties, or salty old nuts. On a flight, the last thing you need to eat is something that's dehydrating!
Instead, reach for dried fruits that are high on energy, but slower to release their own natural sugars. Some flavorsome options include dried bananas, pineapple slice, apple rings, peaches, pears and strawberries.
Beware of dried cranberries, blueberries and raisins, as they're often laced with sugar, and sometimes even contain high-fructose corn syrup. And with dried fruits, it's always wise to choose organic, because non-organic dried fruits contain a lot of pesticides. They're basically big non-organic fruits that have become little in the drying process, so they contain more pesticides per gram than when they were big.
I've recently discovered a variety of dried bananas that are particularly luscious. They're called lady finger bananas, and are whole bananas dried to a sticky, brown, toffee-like substance. These are far from those yellow circles of crispy banana chips; much more delicious in terms of flavor, and a more sophisticated texture. They're marketed under the Tropica brand in the UK, and are fairtrade.
Ultimate Superfoods offer a good dried banana in the US, and also some super food berries that are guaranteed to keep you munching on a long flight. Try their white mulberries, which I adore, and also their goldenberries for a super-tart experience!
The best seed variety for any flight has to be chia seeds. Never eat chia seeds dry! Instead, add a tablespoon of chia seeds to a 500ml bottle of water, and leave to soak for 30 minutes. The seeds swell up like frogspawn, each little seed growing a gel around itself.
If you simply eat a dry chia seed, it will draw moisture out of you to grow, resulting in an intense dehydrating experience for your body. But drink chia seeds that have been soaked in water, and you'll be giving your body extra-hydrating moisture. The gel around the chia seeds is super-replenishing and hydrating, and the perfect food for a flight. Try adding a twist of fresh citrus to your chia drink for added refreshing zest.
Bring raw sunflower and pumpkin seeds and roasted lima beans. And for the nuts, leave behind the salted peanuts and instead try raw jungle peanuts, almonds, macadamias and pecans. After all, traveling can be depleting, so why not treat yourself to some high quality oils to deeply nourish your body as well as lifting your spirits.