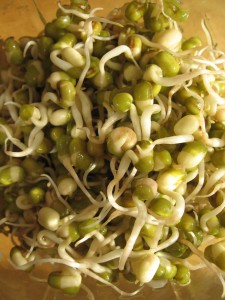 My friend Erik came by my house tonight and noticed two jars with some seeds in them, both covered with water. He instantly realized I must be sprouting seeds, but wanted to know more about the process I use. I figured I'd share my sprouting secret with you too.
Secret is, it's easy. Take a small amount of seeds, nuts, pulses, grain or beans, soak it in water for about 18 hours, drain and then rinse in fresh water three times every day.
That's it. No need to buy any special sprouting trays, muslin, sieves, gauze, or any other spendy stuff. Just use a glass jar on your counter. Don't leave it in direct sunlight, but also don't leave it in a cupboard or the fridge any other dark place. Just regular daylight, rinse them a few times every day. Drain the water away after each rinse, using your hand to keep the seeds inside the jar while the old water drains. The excess water that's naturally left covering the seeds is enough to help them germinate, but not so much that they spoil.
It's important to rinse the seeds well for two reasons. Firstly, they need to be moist in order to grow. But equally important, they will only grow if the growth inhibiting enzyme that they naturally produce is washed away – it's the stuff that stops them from growing in your cupboard, that nature's made to keep them dormant until Spring.
Try sprouting everything in your cupboard that's seed-like and not cooked. You can successfully sprout almost anything raw and untoasted, including sunflower seeds, wheat berries, buckwheat, lentils, almonds, mung beans, pumpkin seeds, sesame seeds, barley groats, garbanzos, cumin seeds, fenugreek, and pretty much anything else lurking in the back of your larder. As with most things in life, if in doubt, try it!
About 3 tablespoons of seeds in a quart jar, which is about a triple layer of seeds. Different seeds take different lengths of time, and are best eaten at different stages of growth. However, rule of thumb is, use your instincts, and you can't go wrong.
Ten reasons why you'll want to try growing your own sprouts:
1. It's fun growing your food.
2. As the seed wakes up, its vibrancy expands exponentially.
3. And its minerals, vitamins and enzyme levels go through the roof.
4. Sprouts taste great, and have many different flavors, depending on the seeds.
5. Instant protein for very cheap, and an inexpensive experiment.
6. They're intensely alkalinizing, which is good for the blood.
7. Kids love watching them come alive.
8. No need to soak then boil beans, so they're less labor and energy intensive.
9. They look like tadpoles.
10. They're easy to digest, and improve most recipes, from soups to bread, and of course, they're great in salads.