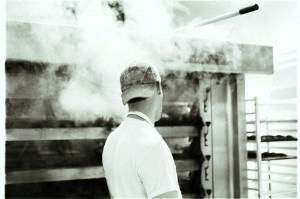 Port Townsend is a Victorian seaport, arts community and food Mecca on the Olympic Peninsula in Washington State, USA. There's a bakery there, and it goes by the name Pane d'Amore.
Founded by Frank d'Amore and Linda Yakush, the bakery sits at the heart of this delicious, health-led and gourmet region. They serve breads and pastries to the public and supply restaurants with fresh loaves seven days a week.
"We maintain a wider focus on the entire baking process," commented Yakush. "We don't just buy ingredients and manufacture bread – we source the healthiest and most ethically sound products always, with a focus on the top priority – what lands on the table."
Pane d'Amore uses Shepherd's Grain flour, sourced from sustainable family farms and Food Alliance certified grain. While the bakery does not make 100% organic products across patisserie lines, organic ingredients are always used where possible.
Keys in the success of Pane d'Amore have been the wide variety of baked goods they offer, and their willingness to listen to their commercial clients and regular customers. They currently create twelve separate kinds of dough, and forms them into 38 different loaf shapes.
"Most people say we're nuts," Frank d'Amore says. "Some great bakeries will make up to six or seven doughs, add various inclusions, and shape them into perhaps fifteen loaf shapes. But we cover the entire spectrum, making something for everybody. We have everything anyone could possibly come up with."
Pane d'Amore is located on Tyler Street in the historic Uptown district of Port Townsend. If you're visiting the area, you're encouraged to stop by and see the bakery in action.
By Stefan Walters