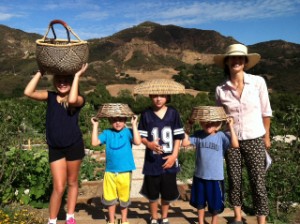 We had some special visitors this week, a party of children, who were here to pick veggies for their school's fundraising Farmer's Market.
Pictured from left to right are Talula, Sullivan, Philip and Darby, and they were excellent at harvesting, particularly at snipping the herbs with their scissors to make bundles, adding scent as well as beauty to their wicker baskets. No wonder their local school raised lots of money to spend on educational supplies!
It's always such a pleasure to see kids in the garden, because they get so excited about vegetables, insects and generally being outdoors and experiencing nature up close. I'm looking forward to their return, can't wait to see their faces when they see the pale white shells of the Luna pumpkins, and pull up multicolored carrots with their feathery tops.
It's still uncomfortably hot, triple figures heat… but in the evening, you can smell autumn in the air as the air cools down and the owls come out. The pollen scents are different from a month ago, and there's the beginnings of the marine mists rolling from the Pacific and into the canyons, generously salting the air with their welcome moisture.
I've taken to working in the gardens in the evenings, starting no earlier than 2pm and finishing after dark. The skies are scattered with twinkling stars, each distant galaxy illuminating the mountain's wild inhabitants, and the landscape itself.
I planted two types of gourds in June, Bird Cage and Water Bottle, and both are sprawling impressively across the dry, cracked ground, spreading their gloriously velvety leaves under the most delicate, white, star-shaped blooms. The gourds themselves are velvety too, a delicate fuzz extending out of their dapples and stripes.
I've sown our autumn seeds, knowing that the heat today will wain tomorrow, and then we'll be glad to have brassicas for dinner!
So far, these are the seedlings growing under cover:
Romanesco cauliflowers
Pixie cabbages
Siberian kale
Tadoma leeks
Purple top turnips
Kohl rabi
and Buttercrunch lettuces
I've also liberally scattered arugula (rocket) salad, and sown sweet peas alongside lupines.
The harvest is still rich, with figs dripping from every tree, stripy pink lemonade lemons laden on the boughs, and every types of squash, melon and cucumber type of vine seriously pumping out produce.
The Italian, French and American tomatoes are happy too, especially three heirloom varieties: Genovese, Hillbilly, and Chocolate Stripes. Also Arkansas Traveler did make a lot of fruit, but they were a bit boring in flavour, and Ace produced well, but the fruit were partial to blight. Super marmande did well, and its high acidity adds a welcome vibrancy to everything. And Striped Cavern was prolific, pumping out thick-walled and stripey little tomatoes. But the German varieties I planted didn't fair well, despite the fact that I probably got the worst sunburn I've ever had one summer in Germany, many years ago. It was that memory of sore skin that prompted me to plant the German tomatoes, thinking they'd be right at home here in the heat of the Malibu mountains. Seems that's not the case.
So next year, I'll just stick to Italian and American varieties, Genovese, Hillbilly and Chocolate Stripes for the big varieties, and sow Chocolate Cherry tomatoes for the baby ones, plus Yellow Pear and the ever-popular Sweet 100 red cherry tomatoes. Maybe throw in some French ones for variety and pure flavour.
This weekend I'm going to preserve lemons, simply in their own juice with added Himalayan salt. The rinds preserve into the most delicious condiment that can be added to everything. It's one of my favourite tastes to add to roast chicken, chopped finely into a paste with fresh rosemary and tarragon from the garden.
So quick and simple to preserve, and so versatile to have in the fridge. Even prettier when made with the stripey lemons we have here at the Ranch, called Pink Lemonade lemons. This is how I do it.
Preserved Lemons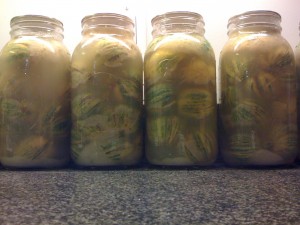 You will need:
8 lemons
4 tablespoons real salt, e.g. Himalayan pink, Brittany grey, or Halen Mon Welsh sea salt
a quart glass mason jar with lid
Method:
1. Scrub the lemons.
2. Cut 4 of the lemons almost into quarters, but leave them attached at the stem end.
3. Using up all of the salt, stuff the cuts full of salt.
4. Press them down into the mason jar, and then squeeze the juice from the other four lemons into the jar.
5. Squash everything down so they're immersed in liquid, and leave at room temperature for 3-4 days, with the lid half-on but not sealed, so that gasses can escape. (otherwise, it may explode!!)
6. After 3-4 days, press the rinds down again, and squeeze in some more lemon juice so they're immersed.
7. Transfer to a cool larder or fridge for one month, after which, they'll be preserved.
When they're ready, you'll discard the flesh and simply use the rinds, which can be rinsed if required, to remove some of the salt. Try it in salads, stews, soups and sandwiches. The preserved lemons will last in the fridge for about a year, but aren't likely to get that far due to being too delish!