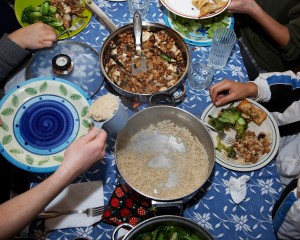 Last night I went to a dinner party with a message: to sit down to a local, organic, vegan meal with a stranger, and leave the table with a full belly and a new friend.
The party was organized by Megan Hobza and Charon Nogues at a Los Angeles artist community known simply as HM157. They serve community dinners on Tuesday nights, and attract a wide range of community-minded individuals and families to their events.
The menu is always delicious, and features locally sourced vegan food that makes your body feel happy. Their multi-course meals are made from whole foods and are usually gluten-free andsoy-free. They're made from organic and locally-grown ingredients whenever possible.
Last night we enjoyed a fabulous seasonal menu specially themed for Valentine's Day, including the aphrodisiac ingredients chocolate, chilies, avocados, honey, and more.
The first course was crispy deep fried oyster mushrooms with fresh chili peppers served with steamed brown rice and a creamy dipping sauce.
Next was a fresh salad of homegrown lettuce with a rich and mayonnaise-like coconut honey dressing.
The main course was particularly sumptuous and satisfying, based on hot spaghetti squash with a cashew cream and roasted cauliflower sauce, and topped elegantly with Spring's first asparagus spears. The smokey flavor of the cauliflower gave the dish an almost smoked mackerel taste that was truly delicious.
The finale to the meal was a big, juicy strawberry served on a soft bed of ultra creamy chocolate mousse. The mouse was rich a luscious, based on moist and tender local California avocados. With both chocolate and avocado in the mix, along with a sweet, ripe strawberry, you can imagine it was delicious!
Tuesday Dinners price structure is intended to make it accessible to everyone:
$15 to enjoy dinner
$5 if you volunteer for a shift in the kitchen
and it's free if you volunteer for two shifts in the kitchen
Tuesday Dinners are usually held at HM157, an impressively Bohemian Victorian mansion that is home to an amazingly creative and cohesive artist community. However, once a month the dinner party travels to other homes and venues in Northeast Los Angeles, creating a networking event for local urban farmers, food activists, permaculturalists, community gardens and other food access friends in the neighborhood.
On the 3rd Tuesday of the month, the dinners become fundraisers. These dinners are a collaboration between the Tuesday Dinners, local farmers and various community organizations who benefit from the profits raised at each event.
The goal of all of these Tuesday Dinner parties is to nurture community, and to create a dialogue around food. This area of LA is generally acknowledged as a food desert, with access to fresh food challenging, and with organic, local ingredients hard to find. So it's exceptional that Megan and Charon serve the freshest foods possible, meaning fewer processed or shipped foods, more green and less brown foods.
They are actively building the Los Angeles food access network by collaborating with and sitting down to eat with local farmers, food activists, permaculturalists and other gardening and food access friends. They are actively building direct pathways to food access by collaborating with local farmers and community benefit organizations. They're also planning to create some food-donated events to facilitate food suppliers gifting high quality ingredients to these events.
Tuesday Dinners demonstrate how locally-grown, easy-to-access organic vegetables can be exciting, culinarily relevant and culturally authentic, which is something new for many local people. They want to help people think about vegetables differently.
While acknowledging that lifestyle change is the hardest change of all, their dinners offer a critical thinking opportunity for transitioning local people's food habits. They're rising to the challenge to make us forget what we're eating is ultra-healthy, because the dinners are so fun and tasty!
Tuesday Dinners is a collaborative project of HM157, Arroyo Time Bank and Echo Park Time Bank. Partners include Whittier Backyard Farms, God Provides Food Bank, Echo Park Time Bank, Arroyo Time Bank, South Central Farmers, Winnetka Farms, Pure Vegan Cookbook, Altadena Urban Farmers Market, Shear Rock Farms, Wooley Pockets, Farmlab and David Kiang Photography.
Be inspired to try a community dinner in your neighborhood, they're so much fun!