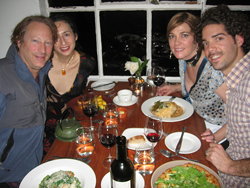 Green's is a legendary vegetarian restaurant in San Francisco, California. Although I'm not a vegetarian, I do love vegetarian food. So I was excited to try this restaurant recently with Richard and some friends Joe and Jean.
Green's was one of the first vegetarian restaurants in the world to serve vegetarian cuisine in an upscale setting with well-crafted recipes. Before Green's, vegetarian restaurants were wholefoody bohemian places that served home-style fare. Green's is undeniably a bit bohemian and wholefoody itself, but its beautiful simple styling has an elegance that raises the environment from pure home-style to fine dining. The food is high quality, based on time-tested vegetarian staple ingredients grown at their farm, only fourteen miles away from the restaurant. And the restaurant is nestled in an inspiring complex of marina-side buildings that house over 50 environmental non-profit businesses. This is ground zero for San Francisco-ness.
Local fresh produce is of course seasonal, so the menu changes regularly, naturally reflecting the seasons. Visit in February and you'll find deep leaf greens like black kale, crisp roots like beets and carrots, and stored fresh fruit like apples transformed into hot puddings and pies.
Run and designed by Zen Buddhists, Green's is a gentle kind space serving delicate and nutritious food with love.