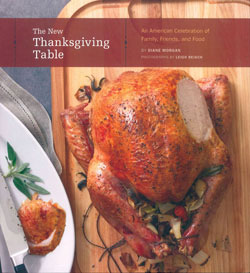 by Diane Morgan
Published by Chronicle Books
Diane knows how to bake a turkey and keep it moist and flavorful. Can there be any greater reason to buy a copy of this book? How about Bourbon Pecan Pie with Buttermilk Whipped Cream. Or Sweet Potato Puree with Pecan Streusel.
Imaginative without being too tricksy, this book is a fantastic companion for your family's Thanksgiving meal. Nobody wants to stray too far from the traditional meal, but most people welcome a few enjoyable twists and additional finesse. Includes a great vegetarian main dish too, Molly's Pumpkin-and-Sage Lasagna, and a fun section at the end about how to use left-overs.