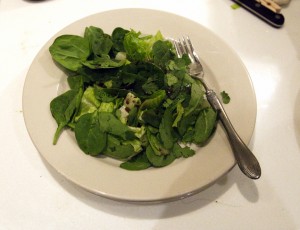 My friend Kristin has been bugging me to share a couple of salad dressings I regularly make. They're both favorites for simple green salads, whether it's just chopped romaine hearts, spicy arugula leaves, or a mixture of baby gourmet greens like spinach, raddiccio, beet tops, lambsquarter, purslane, sorrel and endive.
Both of these dressings benefit from adding dried herbs like thyme and oregano, or fresh herbs like parsley, tarragon or cilantro. If you decide to add dried herbs, it's best to leave them to soften in the dressing for at least half an hour before you intend to serve it, but the mixture balance is up to you.
Both of these delicious tangy dressings are full-flavored, so use sparingly. When your salad is full of robust fresh organic greens, a drizzle of dressing goes a long way…
Okay, here are the basic recipes, enjoy!
Sweet Balsamic Dressing:
1 cup Balsamic vinegar
1 cup light agave nectar
2 cups hemp oil
1 tbs thyme
fresh tarragon, parsley and cilantro, chopped
Combine all the ingredients and shake to infuse.
Creamy Tahini Dressing:
2 tbs hemp oil
1/4 cup toasted sesame oil (Not plain sesame oil)
1/2 cup tahini
2 tablespoons red wine vinegar
1/4 cup water
2 small green onions (white and green parts)
1 tbs lemon juice
1 1/2 tbs shoyu
2 fresh garlic cloves
1 tbs pine nuts
1/4 tsp seasalt
1/4 tsp pepper
Combine all the ingredients in a blender, or use an inversion blender and whizz in a bowl.
Photo by Kristin Burns, with thanks.